This anecdote describes the observations made in 2007 of tin whisker formation on tin-plated surfaces of oscilloscope probes.
Many engineers are becoming savvy about tin whiskers. After several "out-of-the-box" failures on some probes purchased 2 years ago (circa 2004), one engineer disassembled a probe and ultimately found tin whiskers. The picture of the probe shows the tip disassembled. Note the metal barrel structure connected to the cable end. The rod to its left is a separable contact that fits into a tin plated contact that is rather deep inside the barrel. The whiskers that were causing the shorts were growing from the flange of the contact to the interior sidewall of the barrel.
Because of the depth of the barrel, lighting was difficult. A low power optical microscope was used to get the necessary depth of field.
A number of shorted probes were found, all with tin whiskers. The depth of the barrel made it very difficult to get good illumination of the whiskers. Eventually, a probe was cut apart and put in the scanning electron microscope (SEM) for measuring dimensions.
Energy dispersive X-ray Spectroscopy (EDS) was also used to verify that the terminal surface finish was tin plate.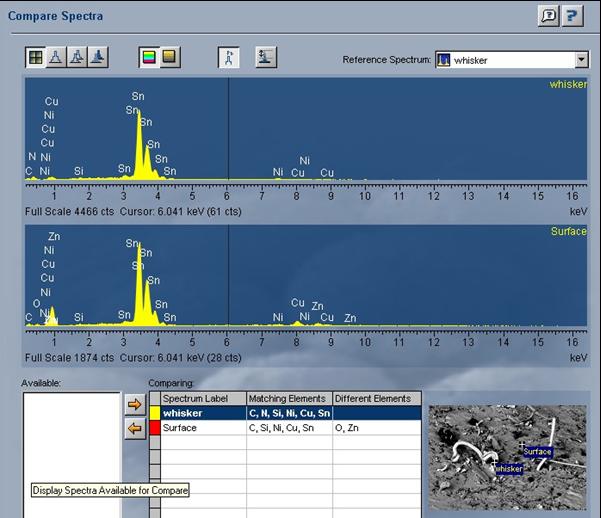 It appears that for at least one box of scope probes, 2004 was a vintage year for growing tin whiskers. Whiskers were observed that grew straight across the gap, but they could not be illuminated well enough for a good picture using optical microscopy. The engineer owner of the probes salvaged them by "routing out the whiskers" with the end of a wire.
Acknowledgment to Mr. Bill Rollins for contributing this anecdote